Since I am new to the whole blogging scene, I have to backtrack my life just a little. I just had to brag about this cake I made for my husband's birthday. (The year is a secret). He is a video game-a-holic and he is actually, quite good! So I made him a Halo 3 cake, featuring none other than Master Chief.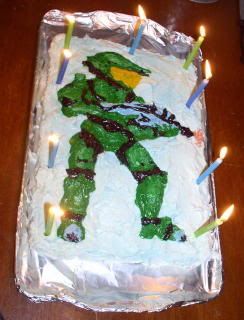 It was very time consuming, but actually quite easy. I just used yummy store bought butter cream frosting and food coloring. A simple note- the liquid coloring will only go so dark, use the gel or powder color to get a rich, deep shade. To copy your own picture for your cake, follow these steps:
1. Print picture out to fit cake.
2. Cut out main color differences in shapes and pin the pieces on the cake using toothpicks (think like a paint by number or puzzle).
3. Spread frosting over entire cake (except for the papered image.) The frosting will create a little.
4. Remove all paper pieces to be colored green... add green frosting to the exposed cake areas.
5. Remove all parts to be colored black... add black frosting.
6. Do this until each colored section is done. Use a small knife or toothpicks to gently push the frosting to the edge of it's color block section so it won't overlap another color. Then, use your black frosting tube to outline the shape.
7. I swirled in a bit of white frosting on the helmet, chins and other places to give a camoflauge and luster feel.
8. For the shading, I used a "spray paint" blue frosting to lightly give a shadow effect. It turned out quite nice!
For my next green project, I took this badly tarnished silver plated candelabra that I got for my wedding, and gave it a little face lift. I lightly sanded it, and painted it about 3 coats of minty green that I mixed to acheive the perfect shade. I LOVE the results!!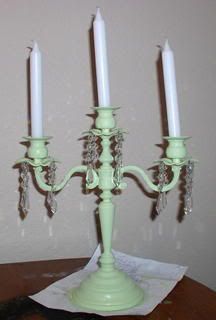 I had left over paint, and I just could not waste this color, so I painted a cute little metal angel figurine my brother gave me many years ago. It's holding a pair of my little brass filigree drop earrings with a sweet vintage coral lily. Cute, huh?